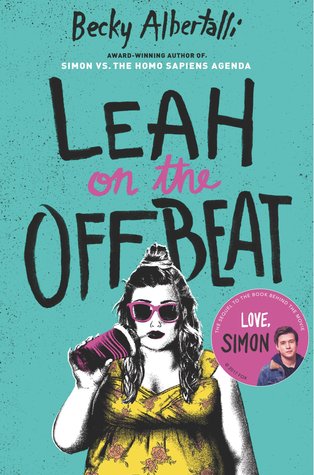 Leah on the Offbeat by Becky Albertalli
Genre: YA Contemporary, Fiction, Romance, LGBTQIA+
Publication: April 24th 2018 by HarperCollins/Balzer + Bray
Series: Creekwood #2.
Length: 338 pages
Format: Paperback
Rating: ★★★.5
Amazon || Book Depository
National Bookstore
Leah Burke—girl-band drummer, master of deadpan, and Simon Spier's best friend from the award-winning Simon vs. the Homo Sapiens Agenda—takes center stage in this novel of first love and senior-year angst.

When it comes to drumming, Leah Burke is usually on beat—but real life isn't always so rhythmic. An anomaly in her friend group, she's the only child of a young, single mom, and her life is decidedly less privileged. She loves to draw but is too self-conscious to show it. And even though her mom knows she's bisexual, she hasn't mustered the courage to tell her friends—not even her openly gay BFF, Simon.

So Leah really doesn't know what to do when her rock-solid friend group starts to fracture in unexpected ways. With prom and college on the horizon, tensions are running high. It's hard for Leah to strike the right note while the people she loves are fighting—especially when she realizes she might love one of them more than she ever intended.
2018 is turning out to be a pretty great year for Becky Albertalli. After the success of 20th Century Fox' Love, Simon, Becky found her way to becoming a #1 New York Times Bestselling Author with Leah on The Offbeat, which was just released last month. And to be able to read this right after I re-read Simon V.S. The Homo Sapiens Agenda, in my opinion, is the best way to just binge on this series. I had an amazing time going through the halls of Creekwood yet again, even though I didn't totally love this book in it's entirety. Read on for the rest of my review.
Leah's a b*tch and she knows it.
All throughout the story, Leah goes through so much, from questioning her gender / sexual preference, balancing the idea of having separate friend groups, accommodating the fact that her single mother's dating a well-off guy, to having her self have different opinions about her best-est friends in the world, all while trying to be an average student in hopes of attending a college that could hopefully set her on the right path to a bright future. She literally went on an emotional ride, one that I hope I won't ever get to experience in this lifetime. And at times, I understood why she acted the way she did. But as much as I wanted to love her enough to excuse her attitude, I just couldn't. For one, I know that this book is her story. But without even meaning to (or so I think), she literally made everything about her, and this specific scene that ended with a fight between her and Morgan was such a cringe show, and I honestly think that it could've been handled better.
Half the time, I hated Leah for the way she kept giving other people shit for knowing their thing, and the other half I spent rooting for her and wanting for her dreams and goal to be recognized. Yep. This is confusing af.
The other characters deserved so much better!
Yup. I'm talking about our softboy Garrett Laughlin. From page 1, I saw how much of an endearing character Garrett was and the way Leah treated him was so cringingly disheartening, I just can't help but feel for him. All he ever wanted was to go on a date (?) with Leah, and I know it's not my place to say this but our girl could've handled all of  this romance stuff better. I love Leah ever since I met her in Simon V.S., but as I previously mentioned, I loathed how she sometimes treat other people, like they're beneath her, especially in Leah on The Offbeat. I know, I know, she's probably going through a lot of stuff hence the attitude. But again, that's not an excuse. Poor Garrett.
Also, other than Garrett, I sort of wished that we've gotten to see more from our favorites such as Cal, Nora, and the other fabulous Creekwood students. *sighs* Maybe Becky will consider writing another sequel? *tries not to get his hopes up… though I know full and well that this will be the last time we'll get to read about these kids.*
Becky's signature writing still shines through!
One of the many reasons as to why I was quick to pick this book up, other than the fact that I wanted to binge, was because Becky's easily one of my favorite authors because of her heartfelt, charming, and just plain enticing writing style. All while reading Leah, I found myself laughing out loud at some of the dialogue and banter and it was then that I realized that Becky will forever be one of my faves because of her unique way of telling a story. Even though Leah might probably be one of my least favorite characters from the Creekwood gang, I have little to no doubt about Becky's talent when it comes to telling a moving, personal story about characters who are flawed but very realistic.
"Leah on the Offbeat is an engaging sequel, one that a lot of Simonites would no doubt enjoy. It's been getting mixed reviews across all platforms, and as much as I wanted to adore this book to bits, there were just so many aspects about it that I didn't hate, nor did I love. Obviously, you'll encounter past favorites in this book, and when partnered with Becky's signature banter-filled, fast-paced writing, I hope that that will be enough for y'all. However, if you're in the mood for a sequel that can easily make you feel all the emotions, regardless whether they be positive or negative, I have little doubt that Leah Burke's story will be of interest to you."
Have YOU read Leah on The Offbeat yet? If not, be sure to grab a copy from your local book store and start reading it! And once you do, let me know what you think of it down below in the comments section!

JM is a 21 year old blogger from Manila. He has a degree in Hotel and Restaurant Management mainly because it was too late when he discovered that literature and publishing is his true calling. He enjoys reading contemporary and fantasy novels as much as he enjoys playing video games and baking pastries. You may find him on his book blog, Book Freak Revelations, also on Twitter, Instagram, & Goodreads.