I've recently discovered a few new books, and hence, I've added them to my Goodreads shelves! Today, I want to share a few of my newly added books with you! Click on the cover for a link to the Goodreads page!
Poignant and chilling by turns, The Opposite of Innocent is award-winning author Sonya Sones's most gripping novel in verse yet. It's the story of a girl named Lily, who's been crushing on a man named Luke, a friend of her parents, ever since she can remember.
Having Luke back is better than Lily could have ever dreamed. His lingering looks set Lily on fire. Is she just imagining them? But then, when they're alone, he kisses her. Then he kisses her again. Lily's friends think anyone his age who wants to be with a fourteen-year-old must be really messed up. Maybe even dangerous. But Luke would never do anything to hurt her…would he?
In this powerful tale of a terrifying leap into young adulthood, readers will accompany Lily on her harrowing journey from hopelessness to hope.
---
Clover Martinez has always been a survivor, which is the only reason she isn't among the dead when aliens invade and destroy Earth as she knows it.
When Clover hears an inexplicable radio message, she's shocked to learn there are other survivors—and that they're all at the former Area 51. When she arrives, she's greeted by a band of misfits who call themselves The Last Teenagers on Earth.
Only they aren't the ragtag group of heroes Clover was expecting. The group seems more interested in hiding than fighting back, and Clover starts to wonder if she was better off alone. But then she finds a hidden spaceship, and she doesn't know what to believe…or who to trust.
---
In the caliphates of Arawiya, the forest extends its palms and the sands bleed black. In Demenhur, the Huntress dons a man's clothes, deceiving all, including herself. In Sultan's Keep, the Prince of Death steeps his hands in blood. He no longer knows to dream. In Alderamin, the clock chimes for the immortal elves as an ancient evil stirs in the night. And from the shadows comes a woman, cloaked in silver and jeweled in crimson, with a letter that could change the fate of the kingdom—before the encroaching forest devours them all.
Set in a world reminiscent of Arabia, WE HUNT THE FLAME is told from the alternating viewpoints of the Huntress who must hunt down a lost artifact upon a villainous island, and the Prince of Death tasked with killing her.
---
Marian is alone, with no voice of her own. The people of Locksley, persecuted by the Sheriff of Nottingham, are doomed to live in poverty or else face death by hanging. The dreadful Guy of Gisborne, the Sherriff's right hand, wishes to step into Robin's shoes as Lord of Locksley, and Marian's fiancé. Society demands that she accept her fate, and watch helplessly as her people starve.
When Marian dons Robin's green cloak, and takes up his sword and bow, she never intended that anyone should mistake her for Robin, returned from the Holy Land as a vigilante. She never intended that the masked, cloaked figure she created should stand as a beacon of hope and justice to peasant and noble alike. She never intended to become a legend. But all of Nottingham is crying out for a savior. So Marian must choose to make her own fate and become her own hero… Robin Hood.
---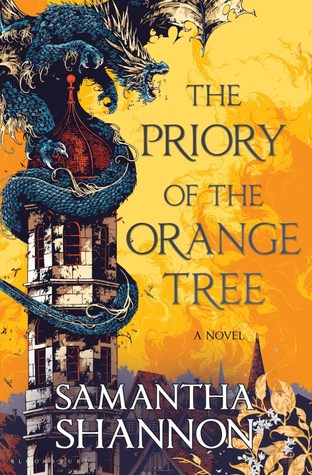 The House of Berethnet has ruled Inys for a thousand years. Still unwed, Queen Sabran the Ninth must conceive a daughter to protect her realm from destruction—but assassins are getting closer to her door.
Ead Duryan is an outsider at court. Though she has risen to the position of lady-in-waiting, she is loyal to a hidden society of mages. Ead keeps a watchful eye on Sabran, secretly protecting her with forbidden magic.
Across the dark sea, Tané has trained all her life to be a dragonrider, but is forced to make a choice that could see her life unravel.
Meanwhile, the divided East and West refuse to parley, and forces of chaos are rising from their sleep.
Alice is an 18 year old college student who loves the oxford comma, television shows, and the company of dogs. She finds writing in the third person odd yet enjoyable. You can find her scrolling through Twitter, Instagram, and forever organizing her shelves on Goodreads.
Are any of these books on your radar? What was the last book you added to your TBR? Let me know in the comments below!