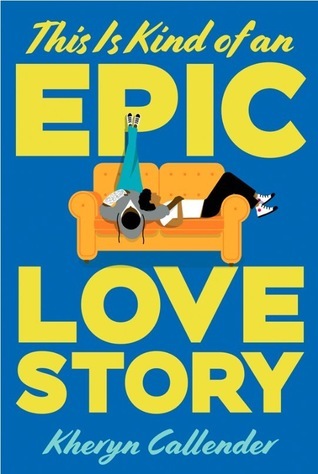 This Is Kind of an Epic Love Story by Kheryn Callender
Genre: YA Contemporary, Realistic Fiction, Romance, LGBTQIA+
Publication: October 30th 2018 by Balzer + Bray
Series: None. Standalone.
Length: 304 pages
Format: ARC from the publisher
Rating: ★★★★★
A fresh, charming rom-com perfect for fans of Simon vs. the Homo Sapiens Agenda and Boy Meets Boy about Nathan Bird, who has sworn off happy endings but is sorely tested when his former best friend, Ollie, moves back to town.

Nathan Bird doesn't believe in happy endings.

Although he's the ultimate film buff and an aspiring screenwriter, Nate's seen the demise of too many relationships to believe that happy endings exist in real life.

Playing it safe to avoid a broken heart has been his MO ever since his father died and left his mom to unravel—but this strategy is not without fault. His best-friend-turned-girlfriend-turned-best-friend-again, Florence, is set on making sure Nate finds someone else. And in a twist that is rom-com-worthy, someone does come along: Oliver James Hernández, his childhood best friend.

After a painful mix-up when they were little, Nate finally has the chance to tell Ollie the truth about his feelings. But can Nate find the courage to pursue his own happily ever after?
Huge thanks to my friends from HarperCollins International for approving an e-ARC of this title for me via Edelweiss and for sending me a physical review copy in exchange for an honest review. This did not, in any way, affect my overall opinion of the book and/or the story.
When I first heard of it via the Epic Reads Fall 2018 cover reveal post, I literally gasped at how much the synopsis of This Is Kind of an Epic Love Story spoke to me. I found it to be so modern and relatable and I couldn't help but compare it to the many rom-coms that I've watched in the past. I'm a huge sucker for movies like You've Got Mail, Letters to Juliet, Made of Honor, and The Proposal and the thought of reading a novel that's pitched as THE romantic comedy book of 2018 quite frankly elated me. After finding out about it, I quickly wrote an email to my friends at HarperCollins asking for a chance to read and feature this book here on Book Freak Revelations.
Nathan Bird = R.E.L.A.T.A.B.L.E.
The story's main character, Nathan Bird, at least for me, is one of the most relatable characters I have ever come to read about. He's sensitive, and awkward, and he's almost always afraid to take risks much like a lot of other teenagers out there. And I don't know if my friends will agree with me on this, but the reason as to why I easily connected with Nate is because I, too, at some point, came across as awkward and sensitive. Heck, I'm already 22 and yet I'm still very much afraid to take risks. I sometimes prefer to be on the safe side of things, like Nate, and that hinders development. What I love about him is that he felt so real and I must commend the author for doing such a great job at portraying a teen who somehow felt like a mirror image of 17-year old JM. I love seeing a bit of myself in the books that I read and this, specifically, hit me right in the gut in all the good ways.
Great Relationship Dynamics
I also appreciated how the story didn't just focus on Nate and his journey to finding love. It also featured a moving family dynamic between Nate, Becca, and their mom and I like how even if they struggled, they moved on from their grief over losing Nate's Dad through each other. Through her incessant nagging, I felt just how well-loved Nate was, and it most definitely reminded me of my relationship with my own nanay (Filipino term for mother.) And I love how even if sometimes she gets on his nerves, Nate still respected and loved his mom with all his heart, much like I love my own. If there's one thing that I'd like to comment on about this aspect, it's that I really wanted to see more of them together.
As for Nathan's friendship with Florence, I didn't always like them as best friends. There were times that made me feel like they weren't as tight-knit as I wanted them to be because of the past that they have together, but I love how even if they fought every now and then, they always had each other's backs and that they would instantly come to each other's rescue if need be. Also, the addition of Ashley and Gideon made their group a very diverse and fun mix, and I also wished that we've gotten to see more of them. I adore the four of them, maybe not as much as the Creekwood Squad, but that doesn't mean I love them any less.
 THE ROMANCE, MY GOD!
Now let's talk about my most favorite aspect: the romance. From their very first encounter down to the very last chapter, I swooned (real, real hard) at how undeniable Nate and Ollie's chemistry was. I found their love story to be so cute, and just so full of fluff, I can't help but laugh to myself or just scream during my commute whenever a chapter I'm reading focused on them and how awkward, but so delightful their romance is. I love how even if there were times that they didn't get along (and believe me, they did have their moments), just like in regular romantic comedies, they still ended up by each other's side and I'm just a huge sucker for wholesome and enjoyable love stories like this one, I honestly just couldn't handle it.
(And here's a bonus: I was reading CHAPTER 15 while riding the bus one day and there's this uber sweet part that just made me gasp out loud and scream! The other passengers seated in front of me gave me weird looks and the girl I was seated next to had to tap on my shoulder and ask if I was okay. It was THAT GOOD.)
"Kheryn Callender's YA debut novel, This Is Kind of an Epic Love Story, is a novel about accepting oneself, appreciating the love that we are given, and facing and the risks that come with living a life worth living. It's reminiscent of a classic, modern-day rom-com and for a hopeless romantic in search for good representation such as myself, this book most certainly meant a great deal. I hope to read more stories like this, and I likewise wish for other readers to be as lucky as to read this one of a kind novel."


Have YOU read This Is Kind of an Epic Love Story yet? If not, be sure to grab a copy from your local book store and start reading it! And once you do, let me know what you think of it down below in the comments section!

JM is a 21 year old blogger from Manila. He has a degree in Hotel and Restaurant Management mainly because it was too late when he discovered that literature and publishing is his true calling. He enjoys reading contemporary and fantasy novels as much as he enjoys playing video games and baking pastries. You may find him on his book blog, Book Freak Revelations, also on Twitter, Instagram, & Goodreads.