Hiya! Prom season's here and I've been tapped on by my friends from Swoon Reads / Fierce Reads to share with y'all what my dream prom looks like! (At least inside my head) I'm a huge hopeless romantic and I'm all for the traditional prom basics: a dapper suit, an amazing venue, good food, and a special someone to share the night with. (Although having a date is something I have NEVER experienced. Back when I was in high school, I always went to prom with my friends!)
So yeah, check out what JM's prom looks like in my head down below!
#1 – Artistic Photo Booth Backdrop // I want me some great photos to remember this awesome experience so I'd like to have a good backdrop where a photo booth can set up and take photos of everyone who's going!
#2 – Good Food // My ideas for awesome prom food includes all things finger food. I'm not sure if that's a good one though, since everyone would want to keep their hands clean since they'll be wearing fashionable clothing but I want everyone to be as comfortable as they can be and make this a memorably appetizing experience.
#3 – Romantic Atmosphere / Decorations // I've never been the one to rely on when it comes to physical arrangements and decorations but if I can have my way, I'd arrange the venue to look formal and romantic. I'd no doubt host this prom at a NYC rooftop so everyone gets to have a great view all while having the time of their lives.
#4 – Give me a dapper suit! // I don't think my plus-size self can pull this off, but in my head, I'd wear a well-fitted, blue, three-piece suit paired with brown, Oxford shoes, and a jet-black tie to prom. A guy can dream, no?
#5 – A boutonnière // Come on! I'm a huge fan of all things traditional so I believe my perfect prom won't be complete without a floral item as an accessory. Maybe two-toned carnations, preferably white and red, would do nicely.
#6 – A car // I've never been one for luxurious cars but this isn't up top on my prom priorities list. Generally, a car that could fit me + all my friends and quite possibly my date would do just fine. And lastly;
#7 – A date // Obviously, this isn't a requirement. But again, if I can have it my way, I'd take Charles Melton (who was recently cast as Daniel Bae for The Sun Is Also A Star movie) to my dream prom. I loved Daniel from Nicola Yoon's instant bestseller and to get the chance to take him, a poet, to prom would just make my night altogether!
And of course, this one's not pictured, but I'd love to read A Prom To Remember by Sandy Hall on, before, or after my dream prom so I could get the chance to amplify and/or relive this special night!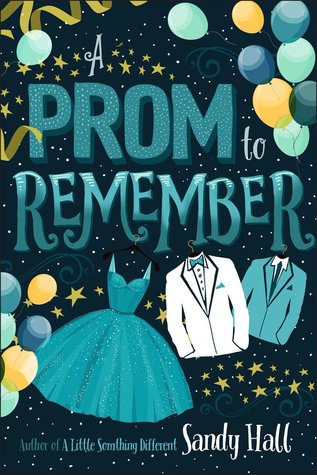 A Prom to Remember by Sandy Hall
Genre: YA Contemporary, Fiction, LGBTQIA+
Publication: April 24th 2018 by Swoon Reads
Series: None. Standalone.
Length: 384 pages
Seven seniors, seven problems, one senior prom.

Cora: Head of the Prom Committee (and basically every other club in school). Has been dating Perfect Boyfriend Jamie™ for approximately forever, and has NO IDEA how to break up with him….

Paisley: Sarcastic feminist who wants nothing to do with prom. Has somehow managed to nominate her anxiety-ridden best friend for prom king…

Henry: Quiet ballplayer who hates social situations. Invited to prom by the most popular girl in school. SEND HELP!

Otis: Charming, popular, and one half of one of the cutest couples in his class. Doesn't know how to tell his boyfriend that he's not quite ready for a post-prom hotel room experience…

Lizzie: A little bit shy, and a lot excited to finally get out of her comfort zone and go to prom. With a boy. Whose name she doesn't know.

Cameron: Loner with two jobs and zero friends. Is so done with high school and this whole town: the only thing he still wants to do is meet the mysterious girl who's been leaving him notes…

Jacinta: Unnamed Nerd Girl #3. Determined to become the star of her own life, starting with prom. Now if only she could find a date….

A Prom to Remember, the newest book from Sandy Hall (author of A Little Something Different) is a funny and cinematic look at the biggest dance of every high schooler's life.
What does your dream YA prom look like? What would you wear? Who would you take as your date? I want to know! Tell me all about it down below via the comments section!
JM is a 21 year old blogger from Manila. He has a degree in Hotel and Restaurant Management mainly because it was too late when he discovered that literature and publishing is his true calling. He enjoys reading contemporary and fantasy novels as much as he enjoys playing video games and baking pastries. You may find him on his book blog, Book Freak Revelations, also on Twitter, Instagram, & Goodreads.