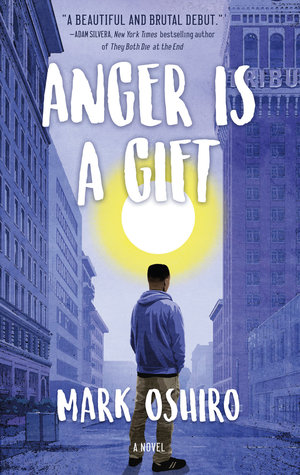 Anger Is A Gift by Mark Oshiro
Genre: YA Contemporary, Fiction, Mental Health, LGBTQIA+, #ownvoices
Publication: May 22nd 2018 by Tor Teen
Series: None. Standalone.
Length: 384 pages
Format: eARC from the publisher
Rating: ★★★★★
A story of resilience and loss, love and family, Mark Oshiro's Anger is a Gift testifies to the vulnerability and strength of a community living within a system of oppression.

Six years ago, Moss Jefferies' father was murdered by an Oakland police officer. Along with losing a parent, the media's vilification of his father and lack of accountability has left Moss with near crippling panic attacks.

Now, in his sophomore year of high school, Moss and his fellow classmates find themselves increasingly treated like criminals by their own school. New rules. Random locker searches. Constant intimidation and Oakland Police Department stationed in their halls. Despite their youth, the students decide to organize and push back against the administration.

When tensions hit a fever pitch and tragedy strikes, Moss must face a difficult choice: give in to fear and hate or realize that anger can actually be a gift.
Huge thanks to my friends from Tor Teen for approving an e-arc of this title for me via NetGalley in exchange for an honest review. This did not, in any way, affect my overall opinion of the book and/or the story.
I'm going to be honest. A couple of months ago, I logged on to NetGalley and searched for titles that are available for me to request and review. With NG's system prohibiting some titles to be requested by International readers such as myself, my choices were narrowed down to a couple of upcoming 2018 releases, and I was so ecstatic to see that Anger Is A Gift is one of them. I've heard lots of amazing things about this resilient story from my friends online and so I went ahead and requested for this. And thank the stars that Tor Teen approved it. I breezed through this amazing book and loved it. Read on for a detailed summary of my thoughts.
Intimidatingly Infuriating Plot
My need to read this book started from my constant need to read heartbreakingly moving stories every once in a while. After having been touched by previously read books written by brutally honest authors, I instantly requested for this title on NetGalley and was so overjoyed to have been approved for it. What I loved about this is the same reason why I loved other books such as The Hate U Give… It's plot made me so absolutely infuriated, I found myself extremely engaged with Moss' story. I love how the author was able to provoke me too many times to evoke real emotions out of me. I hate for this review to sound cliche, but while reading this, I constantly found myself holding my breath whenever Moss had breakdowns or panic attacks, and it was at then that I found myself completely rooting for him.
Dystopian Issues Tackled in Modern-day Tones
The heaviness and overall feel of this book came from the way the author tackled issues like police brutality, racism, and murder. And for those who know me well, they'd know how much I love stories such as this one. The author seemed to have wanted to tell an honest story about how it is to be a part of a marginalized community. Personally, I was impressed by how well the chapters were choreographed and written, and I was very much moved by Moss' journey all throughout the book. I cringed, I got angry, I got my heart broken several times, all while breezing through it's pages. I have no doubt that this could wow readers who consider them fans of novels like History Is All You Left Me by Adam Silvera, The Hate U Give by Angie Thomas, The Serpent King by Jeff Zentner, Tyler Johnson Was Here by Jay Coles, and a lot more of controversially impressive books.
Amazingly Impressive Character Dynamics
Moss' relationships with everyone was so, so impressive in my opinion. First, his relationship with his mother is just the purest thing in the world. I love how his mother always had his back even if she was miles away, and the fact that come hail or storm, she'd go to her son in a heartbeat if he needed her melted my heart in a way that I didn't know was possible. Second, his relationship with his tight-knit group of friends was also so, unbelievably heartfelt and during these times of chaos and insane dystopia, it does help to have a friend as company. I have to admit, the huge cast of minor characters disoriented me every now and then but I came to appreciate everyone in the end. And lastly, Moss' relationship with Javier is just so very memorable, and I love them both as individuals and as partners. Seriously, their tandem was reminiscent of other M/M couples that I came to read about in the past like Simon and Blue, Mateo and Rufus, and a lot of other favorites.
"Anger Is a Gift is an engaging, brutally honest contemporary novel that tackles heavy, but very modern and relevant issues like abuse of power, murder, and police brutality. It's highly emotional, and it evoked so much emotions out of me from the start, and I really enjoyed getting to know Moss, his friends, and his family. I love how colorful they all seemed, and the depth that they had was refreshingly heartbreaking. Reading this, for me, was reminiscent of reading a dystopian novel except the chaos was happening in modern time. It's a moving story about loss, and familial love that I know will be perfect for fans of Adam Silvera, Jay Coles, Angie Thomas, and Jeff Zentner. I hate to end this by saying that Anger Is A Gift is quite literally a gift of a novel, but it is. It most certainly is."
Have YOU read Anger Is A Gift yet? If not, be sure to grab a copy from your local book store and start reading it! And once you do, let me know what you think of it down below in the comments section!

JM is a 21 year old blogger from Manila. He has a degree in Hotel and Restaurant Management mainly because it was too late when he discovered that literature and publishing is his true calling. He enjoys reading contemporary and fantasy novels as much as he enjoys playing video games and baking pastries. You may find him on his book blog, Book Freak Revelations, also on Twitter, Instagram, & Goodreads.