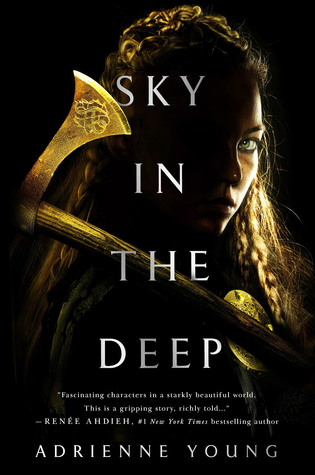 Sky In The Deep by Adrienne Young
Genre: YA Fantasy, Action, Adventure
Publication: April 24th 2018 by Wednesday Books
Series: No. Standalone.
Length: 352 pages
Format: ARC from Wednesday Books
Rating: ★★★★.5
OND ELDR. BREATHE FIRE.

Raised to be a warrior, seventeen-year-old Eelyn fights alongside her Aska clansmen in an ancient rivalry against the Riki clan. Her life is brutal but simple: fight and survive. Until the day she sees the impossible on the battlefield—her brother, fighting with the enemy—the brother she watched die five years ago.

Faced with her brother's betrayal, she must survive the winter in the mountains with the Riki, in a village where every neighbor is an enemy, every battle scar possibly one she delivered. But when the Riki village is raided by a ruthless clan thought to be a legend, Eelyn is even more desperate to get back to her beloved family.

She is given no choice but to trust Fiske, her brother's friend, who sees her as a threat. They must do the impossible: unite the clans to fight together, or risk being slaughtered one by one. Driven by a love for her clan and her growing love for Fiske, Eelyn must confront her own definition of loyalty and family while daring to put her faith in the people she's spent her life hating.
Huge thanks to my friends from Wednesday Books for sending me a review copy of this book in exchange for an honest review. This did not, in any way, affect my overall opinion of the book and/or the story.
Back when I first heard of Adrienne Young's debut, I was already very much excited for it's release since it's pitched as a YA fantasy novel that's part Wonder Woman and part Vikings. (It literally says that on the back cover of my review copy!) With that said, I totally expected for it to be thrilling, filled with all kinds of action, adventure, and emotion, and I'm so, so satisfied that that's exactly what I got while reading Sky In The Deep. Read on for a more detailed review of this exciting Spring 2018 release from Wednesday Books.
If I were to be completely honest about this, then I'd have to confess that I didn't really click with this book instantly. It took me a while to get used to the writing, the world building, and the characters, but that doesn't necessarily entail bad things. I understood the idea of the story enough to know that there are a lot to establish about the tribes, about the world, before things started moving forward. The first hundred pages might have been a little hard for me to go through but towards the ending, I love how every single detail made the story well-connected and well-written. Some of the terms and names used by the author were also very unique and so I would very much love for the finished copy to come with pronunciation guides of some sort. Nonetheless, everything still managed to keep my interests afloat.
As for the aspects that impressed me, I was very much intrigued by Eelyn, and I loved her as an empowering, feminist for a main character. I loved her development from start to finish, and in the end, I grew fond of being in her head space. I enjoyed seeing her grow as a strong warrior, and her journey towards survival, to me, was very engaging. I also liked how she always seemed to value her family before anything else, making her a mature, sagacious heroine. As a result of her being family-oriented, I also adored the family dynamics featured in this book. Each familial relationship felt genuine, and I love how loyal everyone were to their families, and this further made me love the characters, major or minor, overall.
The last thing that I believe is worth highlighting is the subtle bit of romance that the author was able to incorporate into the story. Most of my friends know that I'm almost always on board when it comes to love stories. Unfortunately, that's not always the case for fantasy novels. I usually like my action-packed stories served with less romance or swoon and that's exactly what I got in Sky In The Deep. The romance between Eelyn and her love interest (don't want to spoil anything for 'ya!) wasn't excessive and I think it was just the right amount, not at all obscuring the limelight from the actual plot and story. On the contrary, I think it actually complemented it even more, and it just adds up to the overall feel-good vibe of Eelyn's journey.
"Filled with luxuriant world building, heart-stopping battle scenes, and well-developed characters that are extremely easy to root for, Adrienne Young's debut will no doubt give it's readers the thrill and exhilaration that comes in reading an impressively written book. Albeit being a fantasy story that's completely action-packed, it still manages to focus on relevant topics like great family dynamics, faith, loyalty, betrayal and even love, so rest-assured that readers are in for a well-rounded reading experience that's equal parts unique and engaging."

Have YOU read Sky In The Deep yet? If not, be sure to check out once it's out on April 24th! And once you do, let me know what you think of it down below in the comments section!

JM is a 21 year old blogger from Manila. He has a degree in Hotel and Restaurant Managment mainly because it was too late when he discovered that literature and publishing is his true calling. He enjoys reading contemporary and fantasy novels as much as he enjoys playing video games and baking pastries. You may find him on Twitter, Instagram, and on Goodreads.