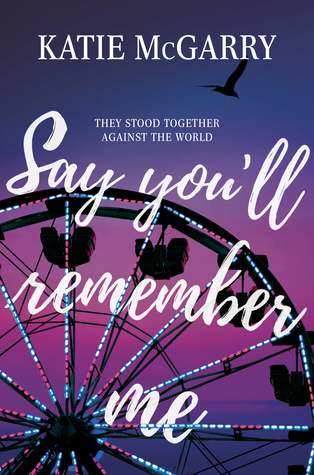 Say You'll Remember Me by Katie McGarry
Genre: YA Contemporary, Romance, Social Issues: Juvenile Fiction
Publication: January 30th 2018 by Harlequin Teen
Series: None. Standalone.
Length: 452pages
Format: ARC from HarperCollins International
Rating: ★★★★.5
When Drix was convicted of a crime–one he didn't commit–he thought his life was over. But opportunity came with the new Second Chance Program, the governor's newest pet project to get delinquents off the streets, rehabilitated and back into society. Drix knows this is his chance to get his life back on track, even if it means being paraded in front of reporters for a while.

Elle knows she lives a life of privilege. As the governor's daughter, she can open doors with her name alone. But the expectations and pressure to be someone she isn't may be too much to handle. She wants to follow her own path, whatever that means.

When Drix and Elle meet, their connection is immediate, but so are their problems. Drix is not the type of boy Elle's parents have in mind for her, and Elle is not the kind of girl who can understand Drix's messy life.

But sometimes love can breach all barriers.

Fighting against a society that can't imagine them together, Drix and Elle must push themselves–Drix to confront the truth of the robbery, and Elle to assert her independence–and each other to finally get what they deserve.
Huge thanks to my friends from HarperCollins International for sending me a review copy of this book in exchange for an honest review. This did not, in any way, affect my overall opinion of the book and/or the story.
I remember being intrigued with Katie McGarry's newest book since late last year when I first heard about the concept of the novel. It sounded like a contemporary romance that has the potential to instantly grip and entertain me and so when my friends from HarperCollins International sent me a list of available galleys up for review with Say You'll Remember Me in it, I instantly sent in my request. After having read it, I absolutely have zero regrets of asking for a review copy that's already published since way back January 30th. Read on to know my thoughts on Elle and Drix' story.
One of the many reasons as to why I loved Say You'll Remember Me is because of the colorful, well-developed cast. From Elle's uptight parents to Hendrix' lovable and extremely supportive friends and siblings, all characters, whether they be major or minor ones, all contributed to make the entire story all the more impressive. If it not for these resilient, passionate, and caring people, I honestly wouldn't have loved this as much as I did. I had an amazing experience getting to know Axle, Holiday, Marcus, Henry, Cynthia, and all the other characters, even the antagonistic ones, and I can only hope that other readers would love and root for them the same way I did, if not more.
Adding to that, I was also impressed at how the author was able to feature different, and both very endearing types of family dynamics. Elle comes from a well off family, and she has parents that are both caring and manipulative (I can only assume that having a career in politics can do that to a person). On the other hand, Drix is just surrounded by supportive, thoughtful, and well-rounded friends and two siblings (yes, there are no parents in the picture for our LI). Evidently, Elle and Drix come from entirely different walks of life. And to see how this affected their character development really intrigued me, and I was really impressed by how they both grew as characters, individually and as a couple.
Lastly, I was also very touched by the message of the story—that every single person is redeemable and deserving of a second chance. I love how all through out the book, this universal message remained true. I appreciated how the author made me feel, and I easily fell in love with this story because, obviously, it strongly tugs on my heart strings. I love the whole idea of the novel and so to see the author's attempt at breathing life into a story that's filled with interesting aspects like forbidden love, and political intrigue, made me so, completely, undeniably smitten. Not to mention inspired.
"All in all, Say You'll Remember Me, in my most honest opinion, happens to be a very expressive novel that's written with so much love, hope, and longing. It packs more than just teenage angst and romance, and the way it healthily tackles modern themes like the importance of family, friendship, and love brought a huge smile to my face. This also happens to be my first Katie McGarry book, and I'm so excited to read more from her thanks to this amazingly written story. I highly recommend it especially to those who are long-time fans of stories that are more than just romance and swoon."
Have YOU read Say You'll Remember Me yet? If not, be sure to grab a copy from your local book store! And once you do, let me know what you think of it down below in the comments section!

JM is a 21 year old blogger from Manila. He has a degree in Hotel and Restaurant Management mainly because it was too late when he discovered that literature and publishing is his true calling. He enjoys reading contemporary and fantasy novels as much as he enjoys playing video games and baking pastries. You may find him on his book blog, Book Freak Revelations, also on Twitter, Instagram, & Goodreads.