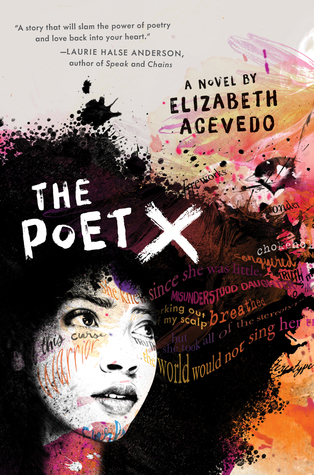 The Poet X by Elizabeth Acevedo
Genre: YA Contemporary, Poetry, Realistic Fiction, Coming of Age
Publication: March 6th 2018 by HarperTeen
Series: None. Standalone.
Length: 368 pages
Format: ARC from HarperCollins International
Rating: ★★★.5
A young girl in Harlem discovers slam poetry as a way to understand her mother's religion and her own relationship to the world. Debut novel of renowned slam poet Elizabeth Acevedo.

Xiomara Batista feels unheard and unable to hide in her Harlem neighborhood. Ever since her body grew into curves, she has learned to let her fists and her fierceness do the talking.

But Xiomara has plenty she wants to say, and she pours all her frustration and passion onto the pages of a leather notebook, reciting the words to herself like prayers—especially after she catches feelings for a boy in her bio class named Aman, who her family can never know about. With Mami's determination to force her daughter to obey the laws of the church, Xiomara understands that her thoughts are best kept to herself.

So when she is invited to join her school's slam poetry club, she doesn't know how she could ever attend without her mami finding out, much less speak her words out loud. But still, she can't stop thinking about performing her poems.

Because in the face of a world that may not want to hear her, Xiomara refuses to be silent.
Huge thanks to my friends from HarperCollins International and Karina of Afire Pages for sending me a review copy of this title in exchange for an honest review, and for allowing me to be a part of this blog tour. This did not, in any way, affect my overall opinion of the book and/or the story.
I don't consider myself a poetry lover and I only usually support works of poets who publish locally (such as Dawn Lanuza, Layla Tanjutco), or Lang Leav. I don't know that many poets and that is entirely my fault. I don't venture out much towards this kind of literature, and so in efforts to try something new, I jumped at the opportunity of reading and reviewing The Poet X by Elizabeth Acevedo. Fortunately enough, I became a part of the blog tour and ended up surprisingly liking the story overall. Read on for the rest of my review!
I didn't have a hard time liking Xiomara's story, and I found the blending of emotions quite impressive. I felt like the author did an amazing job writing the story and that most, if not all of the poems (should I call it that?) held so many emotions that were very much distinct from one another, and so as a reader, I, too, felt the longing, the anguish, and most especially the heartbreak in Xiomara's voice. This makes her such an interesting narrator and all of her experiences allowed for her to be an amazing character overall. Her persistence and strength, for me, was what made her an amazing young woman, and if it not for these traits, I don't think I'll love her as much as I do now.
I also surprisingly liked the family dynamic found in the story, albeit Xiomara's relationship with her family wasn't always healthy. At some point, I was able to relate to the main character when her parents became too strict to the point of being manipulative. It broke my heart seeing how Xiomara was almost always torn between being the free woman SHE wanted to be or being the good daughter her mother always wanted her to be. And I like how towards the ending, Xiomara grew to become both of these things, even though she took her sweet time.
And lastly, just to share with you why I didn't rate this a little higher, for those who value Catholicism and religion, please bear in mind that the story's main character, Xiomara, somehow defies religious norms, and I personally didn't like how it played a part in the story. Coming from an All-Catholic family, and being a devout Catholic myself, I have to stand by my beliefs and share that I somehow grew a little offended towards how Xiomara, at some point, became utterly disrespectful. Don't get me wrong, and I don't mean to sound like a religious pastor or anything, but some of our MC's actions didn't sit well with me. To be specific, there was a part in the story where Xio would bring the Sacramental bread in to her mouth and while on her way back to her seat, would spit it out onto her hand. Personally, I was appalled to read this scene because all my life, I was taught to respect this holy part of the mass, and so to witness this being done by a main character absolutely terrified me. That's just me, though. I'm sorry if I'm somehow offending someone by sharing this, but that's just how I felt. Nothing personal.
"I personally cannot speak about the accuracy of representation found in The Poet X, but I find that it was still able to draw lots of emotions out of me, and so I still very much enjoyed reading it. I wanted so badly to love this as much as a lot of other readers did, but I found some aspects of the story just a little unsettling. Overall though, The Poet X by Elizabeth Acevedo is an emotionally moving novel written in verse that's filled with brutal honesty, hope, and longing. Perfect for fans of Jayson Reynolds' Long Way Down."
The tour hosts, mainly HarperCollins International and my friend Karina are giving away a copy of The Poet X to celebrate the release of this fabulous novel. Click on this link to be redirected to the Rafflecopter Giveaway! (Open internationally!)
Have YOU read The Poet X yet? If not, be sure to check out once it's out on March 6th! And once you do, let me know what you think of it down below in the comments section!

JM is a 21 year old blogger from Manila. He has a degree in Hotel and Restaurant Managment mainly because it was too late when he discovered that literature and publishing is his true calling. He enjoys reading contemporary and fantasy novels as much as he enjoys playing video games and baking pastries. You may find him on Twitter, Instagram, and on Goodreads.