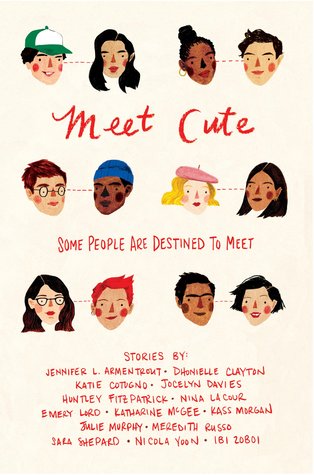 Meet Cute: Some People are Destined to Meet edited by Jennifer L. Armentrout Genre: YA Contemporary, Romance, LGBTQPIA+, Anthologies, Short Stories
Publication: January 2, 2018 from HMH Books for Young Readers
Series: No. Standalone.
Length: 320 pages
Format: eARC from HMH Teen via NetGalley
Rating: ★★★★★
Whether or not you believe in fate, or luck, or love at first sight, every romance has to start somewhere. MEET CUTE is an anthology of original short stories featuring tales of "how they first met" from some of today's most popular YA authors.

Readers will experience Nina LaCour's beautifully written piece about two Bay Area girls meeting via a cranky customer service Tweet, Sara Shepard's glossy tale about a magazine intern and a young rock star, Nicola Yoon's imaginative take on break-ups and make-ups, Katie Cotugno's story of two teens hiding out from the police at a house party, and Huntley Fitzpatrick's charming love story that begins over iced teas at a diner. There's futuristic flirting from Kass Morgan and Katharine McGee, a riveting transgender heroine from Meredith Russo, a subway missed connection moment from Jocelyn Davies, and a girl determined to get out of her small town from Ibi Zoboi. Jennifer Armentrout writes a sweet story about finding love from a missing library book, Emery Lord has a heartwarming and funny tale of two girls stuck in an airport, Dhonielle Clayton takes a thoughtful, speculate approach to pre-destined love, and Julie Murphy dreams up a fun twist on reality dating show contestants.

This incredibly talented group of authors brings us a collection of stories that are at turns romantic and witty, epic and everyday, heartbreaking and real.
Huge thanks to my friends from HMH Teen for approving an e-ARC of this 2018 title for me via NetGalley. This did not, in any way, affect my overall opinion of the book and/or the story. 
Ever since it surfaced book Twitter, I've grown obsessed with this Meet Cute anthology. Why, you ask? It is fairly simple, and I have quite a few reasons:
Nicola Yoon, a.k.a. my most favorite diverse author contributed to it.
I adore short story collections and / or anthologies.
The "meet cute" premise is highly intriguing, especially for contemporary and romance lovers such as myself. And;
I've heard nothing but great stuff about it, whether it be on Twitter, Instagram, and / or Goodreads.
You guys, I basically squealed like a girl when I saw an approval notification in my email from NG. I knew I had to get started on reading it, even if I was still 4 months early to the Meet Cute party. Today, I am ecstatic to be able to share with everyone my thoughts on this most anticipated anthology.
Just as I've done so in the past, I'll be reviewing all the short stories individually so as to be able to break down my thoughts, and make sure that this review will be as helpful as possible for those who might want to give check this book out.
Siege Etiquette by Katie Cotugno // Features a Queen Bee MC and Farm Boy LI. What I loved most about this one was how the back story of the male lead was presented: that he's a student who comes and goes to support his family and their family business. It showed me that the guy had love interest potential, and he deserved better than just a short story. I didn't like the signs of unfaithfulness, though.
Print Shop by Nina LaCour // Features a Bisexual MC and LI. I loved how resilient the MC was in taking on her first day at a local print shop, who's first order of business was to answer queries from the company's Twitter account. What I loved most about this one is that it conveyed the importance of living up to your promises. Also, this wasn't as romantic as I hoped it would be, but the ending is A++!
Hourglass by Ibi Zoboi // This one features a a story that is a little close to my heart, and it tackles how hard it sometimes is to feel betrayed and left alone by your best friend. On the upside, it also highlighted the advantages of being and wandering alone, so it balanced out the negativity enough for me to feel good about this story. As for the romance aspect, it basically sent out the message that love finds you in the most unexpected times. 
Click by Katharine McGee // This one happens to be one of my most favorite ones out of all the short stories because of how cute the premise was, and it impressed me to see how the author played with the Contemporary, and Science Fiction genres. I also love the undeniable chemistry between the MC and the LI, and I found both of their character build-ups to be interesting, especially with the help of the back stories and the dual POVs that the story was told from. I also adore how the LI kept on mentioning that "spontaneity leads to good things". Lots of readers would love this one, for sure!
The Intern by Sara Shepard // I love how in this story, we get to see an MC who's struggling from a common type of loss, and that in just a few pages, we get to see how life altering it is to try and change one's lifestyle, and explore new environments, and take risks, whether they be uncalculated or not. I also appreciated how the story was able to convey the message that moving on's only healthy if one does it at his or her own pace.
Somewhere That's Green by Meredith Russo // Features a Trans MC and a Bisexual LI. The story features a timely and relevant topic that centered on Homophobia, but it was immediately balanced out by (or replaced with) the notion that "sometimes, we find love in the unlikeliest of people". But other than the romance itself, I also want to talk about the friendship between Nia (our Trans MC), and Lucian (a straight guy, I believe?). I love how from start to finish, they both had each other's backs to protect, and I want that kind of friendship for myself.
The Way We Love Here by Dhonielle Clayton // This took me quite a few page flips to be hooked, but I love the author's play on time travelling (?) here. The entire story teaches it's readers that "We don't have any control as to what becomes of us or who we end up with in the future. Our only option is to leave it up to chance, and faith, and hope for the best." I also found that this story serves just the right amount of swoon, hurt, and hope.
Oomph by Emery Lord // Features 2 bisexual female leads for an MC and an LI. This story wasn't as romantic as I hope it would be, but I love how it tackled the life of a character who experiences last minute anxieties after making big decisions, which, for me, is quite relatable. The romance aspect was only evident during the latter part of the story, but I still loved it just the same.
The Dictionary of You and Me by Jennifer L. Armentrout // The library setting was so on point in this short story, I was basically swooning the entire time while I was reading this one. The MC represents most of us: she grows silent in times of great astonishment, while I loved how mysterious, and charming the LI was at first, and I was absolutely impressed with their meet cute moment. I also appreciated the fact that the author didn't leave us hanging with an open-ended ending. This one's also a favorite!
The Unlikely Likelihood of Falling In Love by Jocelyn Davies // This one's probably the short story that I most related to since the meet cute moment happened in a train station (which most of my friends know I is my main mode of transportation here in the Philippines), and I adore this one so much because it also focused on the "everything happens for a reason" notion. I also liked the unique way of storytelling, since it was written like a research. The romance? So on point!
259 Million Miles by Kass Morgan // This is hands down the most heartbreaking short story in this anthology, but I love it just the same! I love how the LI tried to help the MC cope up with bullying after spending an entire day in a closed space together. The ending has to be my favorite part, because the twist is unbelievably heart-shattering, and yet it seemed to have suited the story perfectly.
Something Real by Julie Murphy // I love the author's take on humanizing game show players here, and I love how they seemed normal, just as one of the side characters mentions in the story. I like the unpredictability of the plot, and how the relationship between the MC and the LI was strongly built up before the story ended.
Say Everything by Huntley Fitzpatrick // The plot seems fresh and unique, but I don't know if it's just me, but their's a part in this story where I just got a little confused as to what was happening, and I second guessed myself and re-read the first few pages again to try and understand the flow of the story. I did like the ending, though, and I feel like the MC and the LI have good chemistry.
The Department of Dead Love by Nicola Yoon // This short story reinforced my reasons as to why I love Nicola Yoon as an author. She has this unique way of gripping her readers to a story that one will find extremely romantic, or utterly heartbreaking. With this one, Nicola serves us a moving on story about a heartbroken MC who goes somewhere to try and understand what went wrong with his relationship with the LI, through HeartWorkers from the DODL. The story is equal parts heartbreaking, sweet, and enlightening, and I can only hope to read more of it. (Which I know is completely out of the question. *sighs heavily*)
"To conclude, I don't think there's much left to say, really. I knew from the moment I laid my eyes on this anthology that it would easily be one of my most favorite reads of all-time. For lovers of the contemporary and meet cute trope, this will surely be an A+ read for you. It's short, sweet, and extremely fast paced. The stories are all unique, and exciting to read. What's not to love, right? Personally, through this short story collection, I feel brave and hopeful enough to wish for my own meet cute experience."
When and where is your most ideal Meet Cute scene? And have you read Meet Cute yourself? Tell me all about it via the comment section below!
JM is a 21 year old blogger from Manila. He has a degree in Hotel and Restaurant Managment mainly because it was too late when he discovered that literature and publishing is his true calling. He enjoys reading contemporary and fantasy novels as much as he enjoys playing video games and baking pastries. You may find him on Twitter, Instagram, and on Goodreads.