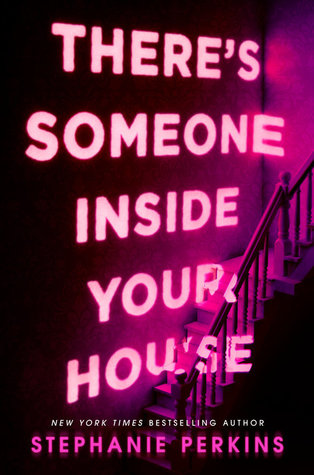 There's Someone Inside Your House by Stephanie Perkins
Genre: YA Contemporary, Horror, Mystery
Publication: September 26, 2017 from Dutton Books for Young Readers
Series: None. Standalone.
Length: 289 pages
Format: ARC
Rating: ★★★★☆ (3.5)
Scream meets YA in this hotly-anticipated new novel from the bestselling author of Anna and the French Kiss.

One-by-one, the students of Osborne High are dying in a series of gruesome murders, each with increasing and grotesque flair. As the terror grows closer and the hunt intensifies for the killer, the dark secrets among them must finally be confronted.

International bestselling author Stephanie Perkins returns with a fresh take on the classic teen slasher story that's fun, quick-witted, and completely impossible to put down.
Trigger Warning: Mentions of hazing, drugs, suicide, violence, and gore.
Huge thanks to my friends from Penguin Random House International for sending me an ARC of this book in exchange for an honest review. This did not, in any way, affect my overall opinion of the book and/or the story.
It's been so long since I last read a book by Stephanie Perkins. I read Isla and the Happily Ever After way back in 2014 when it was released. I've missed her light and fluffy stories since then, and so the news of Stephanie's comeback with a contemporary novel pitched as Scream in YA form totally made me excited to read from her once again. However, it pains me to share that I didn't fall in love with the story the same way I did with her first set of books. I actually almost DNFed this one, if it not for my natural curiosity. It was a good thing that I liked the latter parts of the story enough to give it 3.5 stars.
As I started reading this book, I had no idea whether I was just no longer familiar with Stephanie Perkins' writing or if the story really was a drag to read. Nothing literally happened within the first 100 pages, except the introduction of so many characters all at the same time. I found this too overwhelming, and a little confusing as I was left with a boggled mind whether how many actual characters are in a single scene. This, in my opinion, didn't help in establishing foundations for all characters in the story. (How will you develop characters when readers aren't fully aware of their presence and their individual personalities?) I don't know if it's just me, but I have to admit that up until the very end, I didn't know much about most of the characters, except Makani and Ollie, the story's main character and her love interest.
On a more positive note though, I did enjoy the story: it was equal parts entertaining, and creepy, especially after each and every murder escalated. Even though I felt like it was excruciatingly slow at first, I undoubtedly enjoyed the second half of the story mainly because most of the major plot holes were already filled and handed over for everyone. I'm glad that the story finally picked up it's pace right after the identity of the killer was revealed (more of that in another paragraph), and this finally elicited enough interest from me to finish the entire book. You guys know how much I need for stories to be fast-paced, right? And so that, together with the overall entertaining and creepy vibe of the narrative made me quite satisfied.
What I didn't like about the killer-reveal was that it fell short and the actual killer, to me, was irrelevant. The story, in my opinion, failed to give it's readers enough background info as to who the killer could be, and in the end, the killer turned out to be a nobody who killed people just for the fun of it. Yes, it's a pretty shallow reason to go on mass murdering everybody but that just added to the overall creepiness of the story, which is a good thing. But still. You don't write a teen slasher retelling and end up selling the killer short. It's basically a sin, am I right?
What stood out to and reminded me that this is a Stephanie Perkins book, however, was the romance. Just as I enjoyed the romance aspect in the Anna and The French Kiss books, I was deeply engrossed with Makani and Ollie's love story in There's Someone Inside Your House. I loved them as individual characters and as a pair, and I love how they both rooted for each another and wanted to see their spark turn into a flaming romance. Their intimate scenes were both cute, and sexy and it amused me to be segued into their witty banters while having to feel utterly creeped out by all the killings!
"With all things considered, I still think that Stephanie Perkins' newest book is easily recommendable. I enjoyed reading it, but not as much as I enjoyed her previous novels. There were parts of it that I deeply loved, and there were also parts that I really didn't like and thought that it could do without. After years of having no books to read from the author, I wanted so badly to like this one, but it just so happens that I was disappointed with a few aspects of it. It might have been a little unimpressionable for me, but no doubt avid fans of Stephanie Perkins will still enjoy this book."
Did you get the chance to watch Scream yet? What did you think of it? Also, have you come across There's Someone Inside Your House yet? Let me know via the comments section down below!
JM is a 21 year old blogger from Manila. He has a degree in Hotel and Restaurant Managment mainly because it was too late when he discovered that literature and publishing is his true calling. He enjoys reading contemporary and fantasy novels as much as he enjoys playing video games and baking pastries. You may find him on Twitter, Instagram, and on Goodreads.