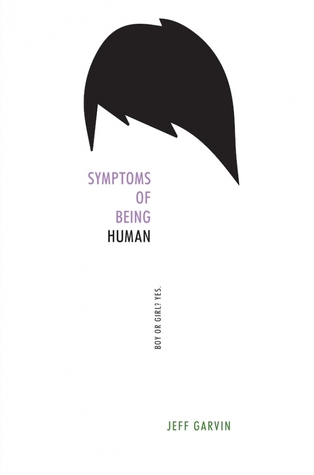 Symptoms of Being Human
by Jeff Garvin
Genre: Young Adult Contemporary
Publication: February 2, 2016 by Balzer + Bray
Series: n/a
Length: 352 pages
Source: eARC from publisher
The first thing you're going to want to know about me is: Am I a boy, or am I a girl?

Riley Cavanaugh is many things: Punk rock. Snarky. Rebellious. And gender fluid. Some days Riley identifies as a boy, and others as a girl. The thing is . . . Riley isn't exactly out yet. And between starting a new school and having a congressman father running for reelection in uber-conservative Orange County, the pressure—media and otherwise—is building up in Riley's so-called "normal" life.

On the advice of a therapist, Riley starts an anonymous blog to vent those pent-up feelings and tell the truth of what it's REALLY like to be a gender-fluid teenager. But just as Riley's starting to settle in at school—even developing feelings for a mysterious outcast—the blog goes viral, and an unnamed commenter discovers Riley's real identity, threatening exposure. Riley must make a choice: walk away from what the blog has created—a lifeline, new friends, a cause to believe in—or stand up, come out, and risk everything.
Thank you to HarperCollins / Balzer + Bray for providing me with a copy of this book in exchange for an honest review.
SYMPTOMS OF BEING HUMAN is a novel that follows the story of Riley Cavanaugh, a gender-fluid teenager who moves to a new town. Riley endures through a multitude of bullies and school stresses and suddenly becomes an internet sensation after Riley's blog goes viral.
What's interesting is that this LGBTQ+ book focuses generally on gender fluidity, which is a topic I don't think comes up as often. I personally loved reading this book because I love learning about new aspects, such as gender identity, and I think Jeff Garvin did an amazing job educating readers about gender fluidity.
Riley has a great support system including her friends and parents, which I appreciated. Solo and Bec become Riley's friends upon moving to a new town, and they are so friendly and funny and I was so happy that those three became such close friends. Riley's parents try to be understanding and learn about what gender identity is as well, which I believe is a great example of what all people, especially parents should do.
Another aspect that I appreciated in this novel was the fact that Jeff Garvin didn't specify whether Riley was born a girl or a boy because frankly, it didn't matter, and the emphasis on gender identity and Riley's happiness was enough.
As a fond reader of fiction and moving plots, I was intrigued by the drama but not as much as I wanted to—this novel essentially felt like a memoir from Riley's perspective. Despite that, SYMPTOMS OF BEING HUMAN is a novel that spreads an incredibly influential and important message. Definitely pick this one up!
 Rating: ★★★★/5 stars
Before becoming a novelist, Jeff Garvin acted on TV and toured as the lead singer of a rock band. He has a BFA in Film from Chapman University and lives in Southern California, surrounded by adorable, shedding beasts.
Jeff was kind enough to offer a signed bookplate + bookmark to one lucky reader!
*US only!*
Have you read this book? If so, what were your thoughts? If not, are you planning to? Let me know in the comments!